Prog Media Server
Prog Media Server is a ProgDVB module that allows you to broadcast the information onto your local network or to watch several channels on the same computer simultaneously.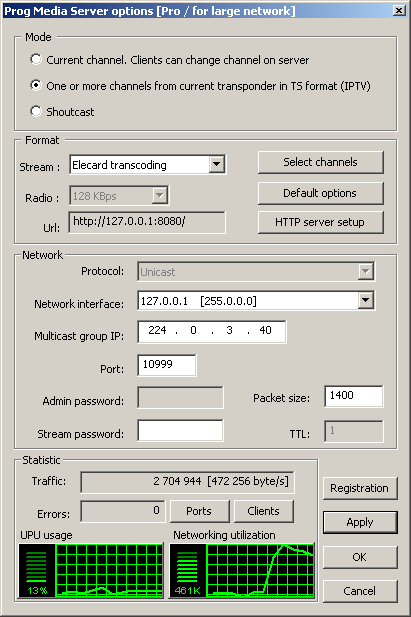 Features:
1. Current TV or Radio channel broadcasting. Additionally, it is possible for the client to switch the channels (if the password set on server is known).
2. IPTV Server. Transmission of several channels from the current transponder in Transport Stream format.
3. Shoutcast server for TV and radio channels. You can use WinAmp for listening to the radio stations.
4. Possibility to send the ProgDVB channels list to the client (upon request) and other features.
Multicast, broadcast and unicast TCP protocols are supported. Free (Home) version supports only TCP protocol with no more than one client at the same time. Note that some clients (e.g. VLC) can operate only with broadcast or multicast.
Prog Media Server Pro for small networks costs 60 €. The price includes future updates.
NOTE: If you do not need to watch TV on the broadcasting server you can start ProgDVB with the /NoGraph parameter to save a great deal of resources.
Prog Media client
Prog Media client is a free module allowing ProgDVB to work as a network/IPTV client.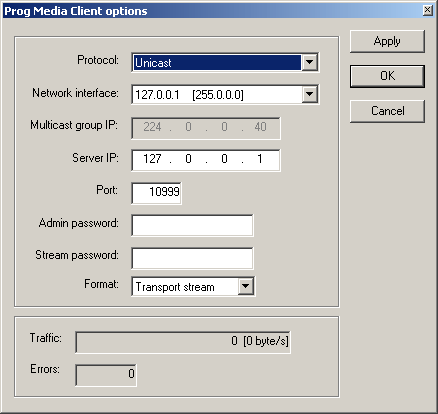 The software has 2 modes (chosen from MainMenu->Settings->Device list)
1. Receiving the stream from Prog Media Server. ProgDVB will show it as a usual TV-channel. You can also switch the channels on the server.
2. Receiving the IPTV. Can contain pure video and audio data or may also include PSI-tables for channel descriptions.
The latter option allows EPG, scanning and subtitles functionality, i.e., ProgDVB operation will not differ from working with a DVB-card.
ProgDVB will provide the channel list to enable switching between the channels without any limitations.
Naturally, the client supports all the functions provided by the server. It may receive the channel information, channels list, switch the channels, etc.
Any client may be used for operating with Prog Media server and vice versa (with some limitations).
Prog Media client may be used with any other server, but with no guarantee of compatibility.
Changes in current versions:
3.23 Some fixes.
3.21 Transcoding.
3.21 Pro/Large start more one copy of server in one ProgDVB.
3.21 Pro/Large one web server for all copes of server on PC.
3.21 Many changes and fixes
Prog Mpeg2 Editor you can download here and buy here.
Prog Media client and the free Prog Media server are included in the ProgDVB installation package.