Purchase and Registration
On page http:// www.progdvb.com/download_progdvb.html an official site you can acquire programs interesting you and the codecs necessary for watching. You also can download and use Free of charge earlier versions of the program, and as 7 day trial version with limiting functionality.
At first download and install the necessary program. After that, at its start there will be a window with the HID of your computer which was defined by program.

Then on the same page or on page http:// www.progdvb.com/order.html push Buy now opposite to a product. Follow the link, select and carry out a method of payment convenient for you.
After that you receive by mail CD code of the program (normally, within two hours).
Further, it is necessary to register the program in Activation server clicking on the link http://reg2.progdvb.com or from main page of a site of the program.

As a result, at you will have the activation code (key) which is necessary for program registration at start.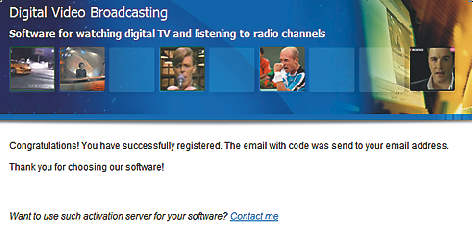 One license entitles to use the program on two computers. Therefore, two HID are specified on the register page. Thus there is no limitation on the number of programs on one computer. At computer upgrade, for example, the new video card, hard disk, OS, etc., HID is changed too. You must to change it instead of the outdated. For this purpose on page http://reg2.progdvb.com select point Update Activation Code. Be attentive, to change HID is possible once a day.
About other purchase forms of a product and in case of difficulties with acquisition and activation, it is possible to address on e-mail: prog@progdvb.com