Codecs, Colors
In COLOR settings there are image adjustments: luminance, contrast, saturation, hue. Besides you can select a Color profile * from installed on the computer.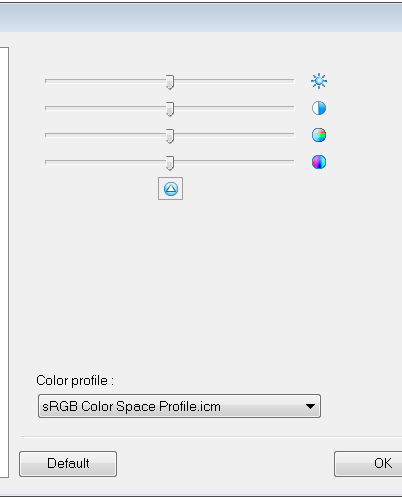 Color profile can be useful to whom who have monitor with color range very differs from sRGB (often at Notebook and Wide Gamut RGB monitors).
In ProgDVB usage of following renderers are possible:
Video Renderer (Overlay mixer) - a renderer for Windows 9x (perhaps not work with modern video cards);
VMR 7 (Requires Windows XP) - the renderer which came in Windows XP;
VMR 9 (Requires DirectX 9) - a renderer which is part DirectX 9;
VMR 9 Renderless - renderer VMR 9 with additional possibilities (color profile, SuperZoom, 3D TV etc.)
Enhanced Video Renderer (EVR) – the renderer which came in Windows Vista and Windows 7 (today it is the best renderer for performance and quality)
EVR Custom Presenter – EVR with additional possibilities (color profile, SuperZoom, 3D TV etc.) This renderer is recommended to be used on the hardware with sufficient margin of performance.
According to your OS and hardware possibilities, select a suitable renderer.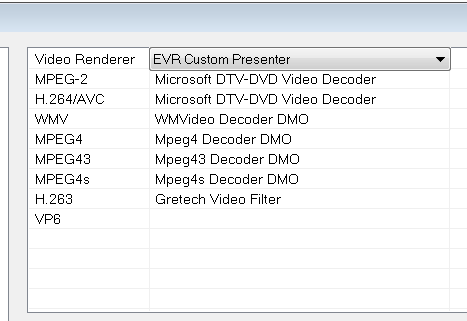 For decoding received signal and postprocessing by renderer, it is necessary to select CODECS. In the program there are no built in codecs and it uses the codecs installed in system (For installation of codecs it is possible to use small free programs, for example, RadLight Filter Manager.).
For TV it is enough to install MPEG-2 and H.264/AVC (for S2 transponders and HD content**) codecs. For playback YouTube clips it is required H.263 (the codec adapted to slow Internet connection. For example Gretech Video Filter) often. Moreover, it is useful install new version of Windows Media Player in which there are many free built-in codec.
Not all defined by the program of video codecs can really decode the declared formats, therefore, if there is no picture, try to re-choose the codec.
Most known and well proved video codecs are Microsoft DTV-DVD Video Decoder ***, Cyberlink, CoreAVC, Elecard, Intervideo, ffdshow, ATI MPEG Video Decoder, etc. If in your system there were not codecs you can begin with free divx h264.
Many codecs have additional tunings, for access to them go - Menu panel -> File -> Properties -> Video decoder -> Properties.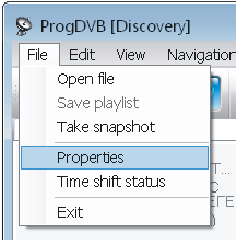 To cope with hard CPU usage on HD channels it is recommended to use the video
card with 512?b RAM and support of the shaders 2.0 and higher.
Considerable importance in the video processing of the stream has the DXVA - decoding, mostly, by GPU (video card). For this purpose are necessary the Windows XP (or higher) and the video card with support of hardware acceleration.
In Windows XP DXVA (only 1.0) works with Video Renderer and VMR 9-VMR 9 Renderless. In Windows Vista and Windows 7 came DXVA 2.0, which works with EVR - EVR Custom Presenter.
Besides, codecs should support hardware acceleration (DXVA). Most known of them - Cyberlink and Microsoft DTV-DVD Video Decoder. At usage of the first to turn on DXVA it is possible in the File -> Properties -> Video decoder -> Properties->. The second - by default uses DXVA if the video card supports it.
Codecs which are not supporting DXVA (for example ffdshow), ie, processing a stream by software, usually, concede to them.
Anyhow, choice of codecs and renderers substantially depends on each individual configuration of the hardware and personal preferences. After a choice of codecs suiting you, it is recommended to delete from OS others for stability and high-speed performance of the program.
* - renderer VMR 9 Renderless or EVR Custom Presenter is required
** - only for Pro versions
*** - in operating systems Windows Vista Home a Premium, Windows Vista Ultimate, Windows 7 Home the Premium, Windows 7 Business, Windows 7 Enterprise, Windows 7 Ultimate is built in good enough codec of Microsoft DTV-DVD Video Decoder and the additional codec it is not required.