RC, Controls
In the program are used some types of remote control for its management. The majority of RC panels can work in the program immediately after installation without additional type selection on page Settings -> Options -> Interface -> Remote Control module.

You can try to select Universal HID Remote Control (emulation of keys pushing of the keyboard) or Winlirc client (it is necessary to install and set Winlirc server) also. Besides, some RC panels are accompanied by the mahufacture modules. For work with them you must to place RC module into RemoteControl folder and then choose the appropriate it from Options.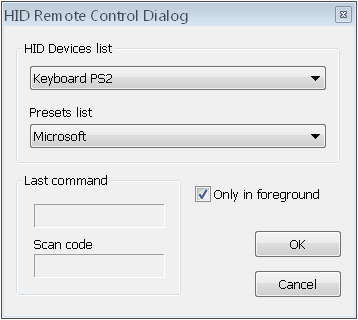 In the properties of the Universal HID Remote Control you can choose Presets list (already formed button settings for some panels of various vendors of Microsoft, AzureWave, Technisat). Only in foreground optionserves for avoidance of conflicts by simultaneous operation of the keypad and the panel in the other applications.
In Winlirc client options tunings are produced for work with Winlirc server and time delays of pushing on buttons are sets.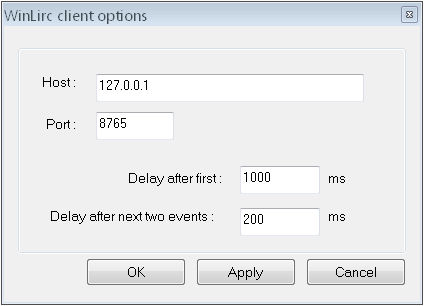 Irrespective of RC type you can assign or reassign commands of buttons. For this purpose it is necessary to enter into Bind Keys on a page Interface.

Further select Event and push Edit. In the appeared window, opposite to the Keyboard key, Remote control key or a Mouse extended key click on Learn and push the key or the button necessary to you. For the extension of possibilities of control the mouse in addition provides usage Shift, Alt, Control. Moreover, here are set of typical commands for the mouse.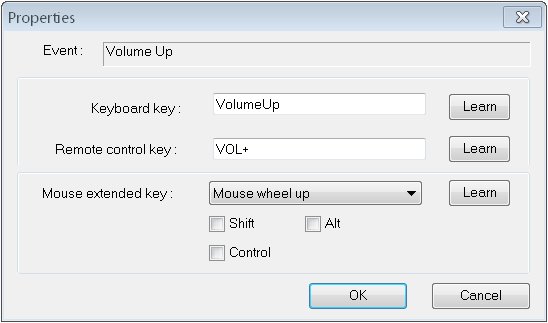 Keyboard keys by default:
M – sound, on/off
R – record, on/off
X – exit
A – change audio stream
P – PIP
Z – zoom, + / –
Add – zoom, +
Subtract – zoom, –
V – ratio
B – letter box (cut out)
S – Subtitles
D – 3D/2D
F7 – Swap left/right frame
F – full screen
W – TV window
Esc – normal window
I – channel info, OSD
T – teletext
E – program guide
L – channel list
O – main OSD dialog
C – OSD cancel
Return – ??
Up – up
Down – down
Left – left
Right – right