Autoupdate
If for any reasons you do not accept the information on a program guide or its absence on some channels you can load it independently.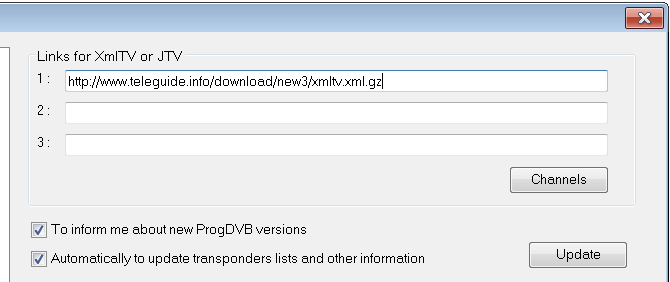 Program guide can be zip, gzip, xml format. For this purpose it is necessary to enter at line 1: (2:, 3:) the link for file downloading (needs the Internet connection) or a path to a local file. At usage Proxy set up its parameters and if it is necessary, authenticate, pushing the appropriate button. Further click on the Update button.
The Channels button. In this window correspondence of channel captions in a program guide and ProgDVB database is checked.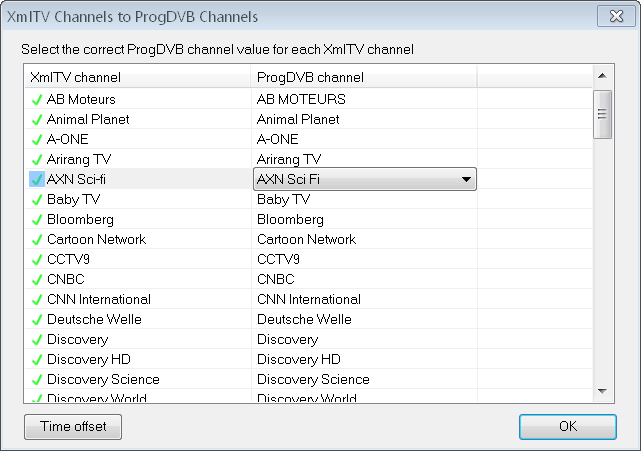 It can not correspond for various reasons - for example if you renamed the channel or its title slightly different at other provider etc. If titles coincide, near to it there will be a green icon. If the icon is red it is necessary to push the line with a ProgDVB title and select the same channel.
If your time zone does not coincide with guide zone you can set up time of the beginning of programs, setting this time shift click on Time offset. For program guide deleting you must delete a epg.dat from ProgDVB folder.
Moreover, in this dialog window you can Automatically to update transponders list and other information and to check, would you like to receive information about new ProgDVB versions.