Elecard Boro
TV market has become overloaded with a variety of solutions aimed at content creation and delivery. This tendency prompts companies to switch their focus to the quality of the provided services. To win the ever-increasing competition in IT industry one should provide extra reliable services and quickly respond to the occurring problems before they become evident for users. At this point you may hit a stumbling block - a price for a monitoring solution. The fact is that the overwhelming majority of monitoring solutions will cost you just a little bit cheaper when compared to the transcoding solutions.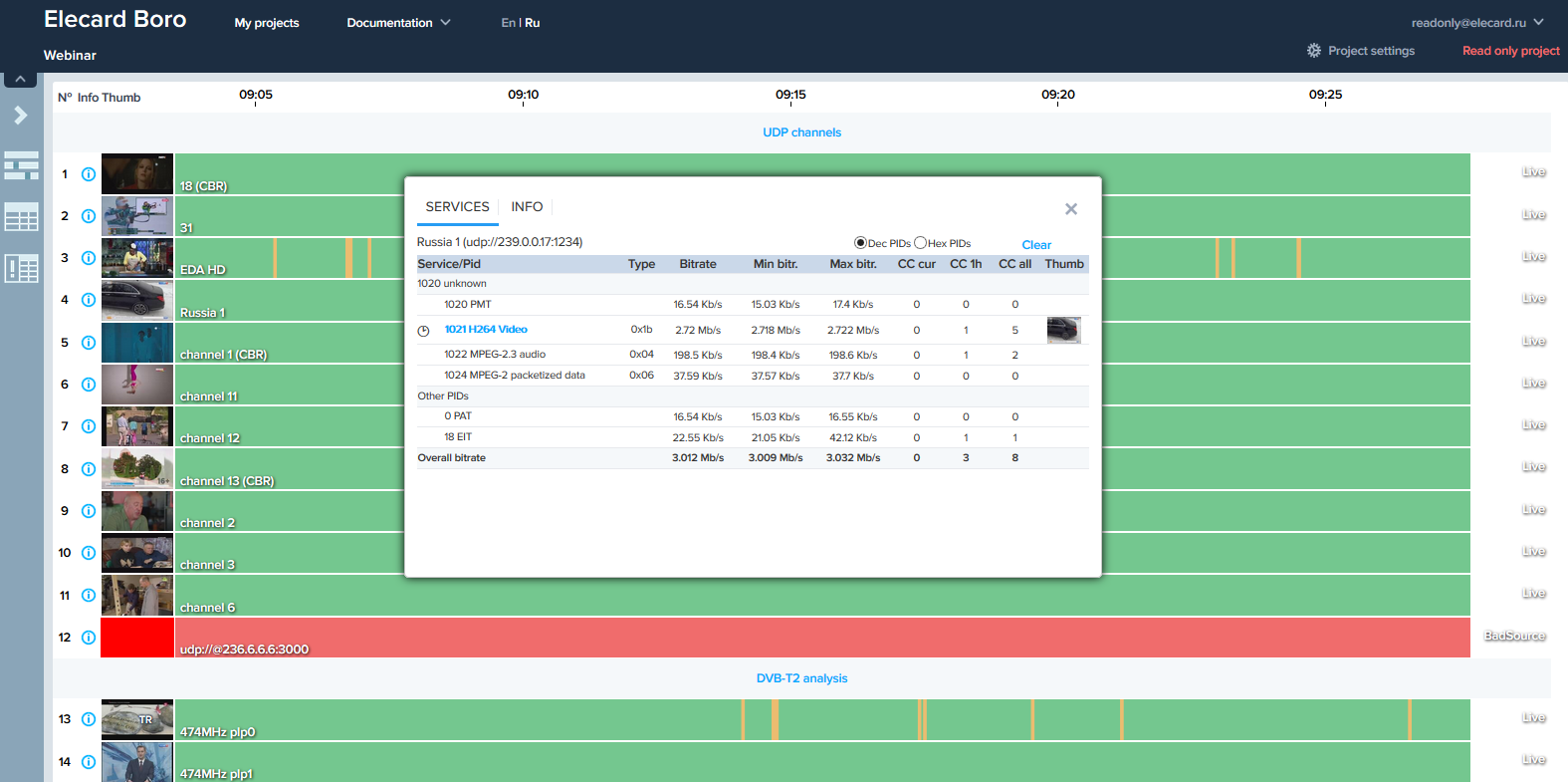 In this context Elecard Boro seems to offer more extensive benefits when it comes to price and fast launch of the monitoring system. Boro service enables a huge company or a single user to quickly start analyzing the desired number of the streams. Being a cloud service, Boro makes it a way easier to launch a monitoring system and reduces the amount of time required to analyze the first stream to 1-5 minutes. Three easy steps will activate your monitoring system – just register, download and start a probe (a console application). A personal account at Boro service is used to manage and control your monitoring system via a web-interface. A registered user may analyze up to 10 streams during 7 days. However, it is possible to extent the number of the tested channels up to 50 and increase the testing period up to a month.

The service offers an opportunity to monitor IPTV and OTT services by collecting statistics and values of the analyzed parameters similar to the majority of existing solutions. The functional capabilities of Boro might be extended by using DVB-to-IP gateway (for example, based on ProgDVB http://www.progdvb.com/media_cs.html ) with further analysis of TS quality provided in IP format.
Boro is available as a stand alone software program in case a cloud solution is not a suitable option for your project.


QOS

ETSI TR 101 290 (priority 1)

Clock Continuity

Signal Loss / Bad Source

Profile / Level Conformance

Download / Multicast / Payload Rate

Min / Max / Average Bitrate

Invalid Elementary Stream Detection

PSI / PCR Display & Change Detection

ES Video Information Change Detection

Multiple Multicast Sources Detection

Maximum Inter-Packet Arrival Time (IAT)

Encryption Map Change Detection

HLS Warnings, 23 alarms and events

TOS / DSCP Change Detection

TTL Change Detection

Source / Destination MAC Detection
QOE

Video Freeze

Estimated PSNR

SCTE35 Extraction

Closed Captions Extraction

Thumbnails capture by events and time interval

Stream Record by request and by events